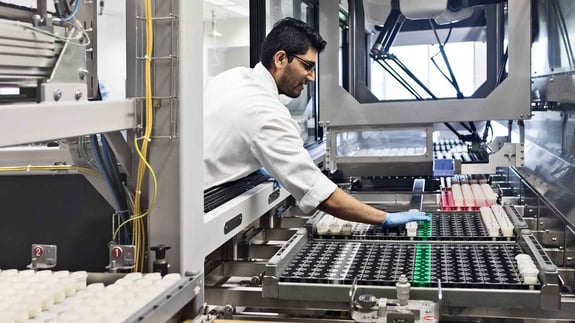 Laboratories
Collect accurate data, improve management of quality testing and securely share data and reporting.
Optimize your quality testing regimes at scale
Laboratories use MADCAP to collect, store, and report against their compliance with strict quality control measures. Our solutions give dairy laboratories access to critical real-time data that can be shared with producers to improve production quality, while creating operational efficiencies in collection and testing regimes.
Our sophisticated laboratory management technology is custom built for the rigors and demands of the high volume testing environment of the dairy sector. The open MADCAP ecosystem allows labs to fully integrate with systems, laboratory testing equipment and robotics where automation is a necessity.
How MADCAP supports your laboratory
Improve milk testing systems
Automated sample recording reduces input errors, ensuring greater accuracy of sample collection, and increasing the robustness of your quality assurance.
Optimize production quality
Access to critical real-time data enables the early detection of irregularities so they can be addressed immediately, avoiding issues further up the processing and product supply chain.
Streamlined auditability
MADCAP has the flexibility to accommodate any local regulations on a global scale. Record all milk collection information down to the individual farm milk vats and tanks, along with associated quality data for robust audit processes and meeting IFS Certification obligations.
Create communication efficiencies
New milk quality results can be automatically sent from the lab to the dairy company and producer in real-time as soon as samples are processed and results are released. "The quality of the milk we use in Tillamook products is paramount to our success as a brand and company. We have been able to easily integrate our other business systems to MADCAP, which has automated delivery of critical milk quality data to our farmer-owners in order to maintain standards and deliver a consistent product to retail shelves all across the country." Ready to talk?
Transform your lab sampling, testing and quality assurance with MADCAP. Let's chat.