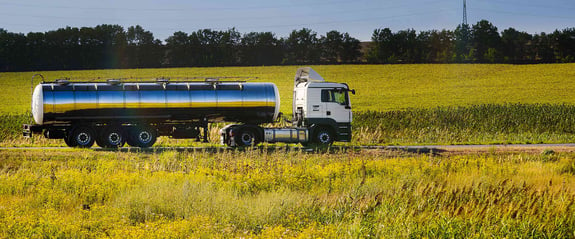 Milk Hauling
Move milk efficiently, optimize fleet resources, routes and create full traceability and efficiency in your operations.
Connect your fleet
MADCAP solutions support the milk procurement process through more efficient logistics management including milk hauler scheduling, collection and transportation. Connect your drivers through mobile technology while on the go, and use up-to-date data to optimize dispatch, routes and reliably track every load from farm to factory.
For hauling companies and dairy processors, automation of your dispatch processes, scheduling and route planning is a game changer. With solutions to improve and optimize the transport of milk between farms and processors you not only realize massive savings, through more efficient transportation of raw milk and commodities, but you are also providing a better way to sustainability manage transport and reduce carbon emissions.
How MADCAP supports your business
Optimize schedules
Automatically schedule and organize loads for the best route and order of pickup for each hauler and driver.
Improved operational sustainability
Save on costs and time, and reduce carbon emissions, through less time idle on farm, reduced miles traveled and greater tanker load utilization.
Accurate forecasting
Accurately forecast the amount of milk available for collection from a farm or plant, and carry out scheduling weeks or months in advance.
Up-to-date traceability
Precise GPS tracking keeps farmers and processors up-to-date as milk collection progresses and automatically records all activity details. Talk to our team
MADCAP's solutions are scalable and configurable to the needs of your organization. Talk to us and learn how it could work for you.
Featured client story
Westland Milk Products
Westland Milk Products, based on New Zealand's West Coast, is a leading dairy company with 80 years of industry experience and exports to 40 countries.
For over 30 years, Westland Milk Products has used MADCAP to digitize and manage their supply chain, resulting in a robust, flexible, and eco-friendly organization with streamlined scheduling processes and reduced collection expenses.

West Coast, New Zealand