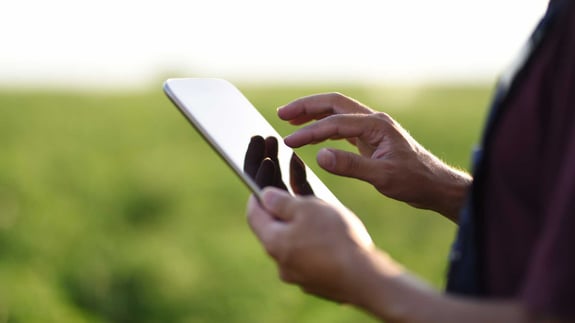 Producer Mobile
Give your producers/farmers access to key quality and component information, collaborate and communicate wherever they're working.
Keep everyone up to date with farm operations, on-the-go
Being responsive to issues and changing conditions plays a part in quality production outcomes. But with often limited or unreliable location connectivity, it can be difficult for producers to have access to the up-to-date information they need. MADCAP's Producer Mobile solution addresses these challenges by enabling online and offline access to critical quality and component information on the go.

In addition to your producers, give your field staff the capability to access farm details on the go as they visit farmers. They can capture detailed farm information directly in the app as well as record their visit, capture any notes and store any pictures.
Stay connected with one central system
Give producers greater transparency of their farm data when they need it. They can quickly access pickup details, quality results, payment information and be alerted via messages on news, truck arrivals and more. Timely access to a centralized platform for information helps to enhance communication, strengthen stakeholder relationships and give producers the data they need to make decisions that impact positively on production outcomes. As changes eventuate in day-to-day operations, you can quickly react with all data instantly updated across MADCAP's centralized system.
Receive milk pickup and quality information in real-time
Record and view on-farm compliance data
Compare their performance with previous seasons
Benchmark their results against other farmers in the area
Receive instant messages within the mobile platform
Manage all farm contacts, communication and business development
Visibility of trends
View previous on-farm production trends compared with the current season and other farms to predict future trends.
Real-time information
Receive your milk quality information in real-time on the same day as pick-ups. Alerts are sent out in real-time regarding milk quality changes. Gain transparency and communication across the entire payment process.
Ease of compliance
With a centralized place to record on-farm compliance data (such as GHGs, water quality, etc.), meeting legislative reporting requirements is hassle-free for both producer and processor.
Enhance connection
Field service and member relation staff can communicate with producers through the app with ease, knowing when messages have been sent and received, allowing greater transparency. Manage all your contacts with extensive relationship management tools built in.
Offline functionality
Information is stored on the device, allowing it to be used offline. Data is automatically uploaded when online again. "Our farmers have benefited too. They appreciate the real-time data they get from the app – no more waiting for the once a day text message."